This has been an eventful spring for Databasic! After launching in January to great success we have been traveling to classes, conferences and workshops to help different groups of people learn about working with data.
Catherine led four workshops for graduate and undergraduate Journalism students at Emerson College. Journalism students learned how to work with qualitative and quantitative datasets from open data portals and start telling stories. Rahul led a workshop for his Data Storytelling Studio class at MIT. Students studying art and civic engagement at Emerson College used Databasic to analyze citizen ideas for the future of transportation in Boston which they later presented to guests from the City of Boston and State of MA.
Rahul led a workshop for a coalition of organizations that work with the youth in the arts sector.  It was an exciting chance to share how the DataBasic approach can help arts organizations think about telling stories of their impact with the rich qualitative and quantitative data they have.  The group loved WTFcsv's visual approach to finding stories.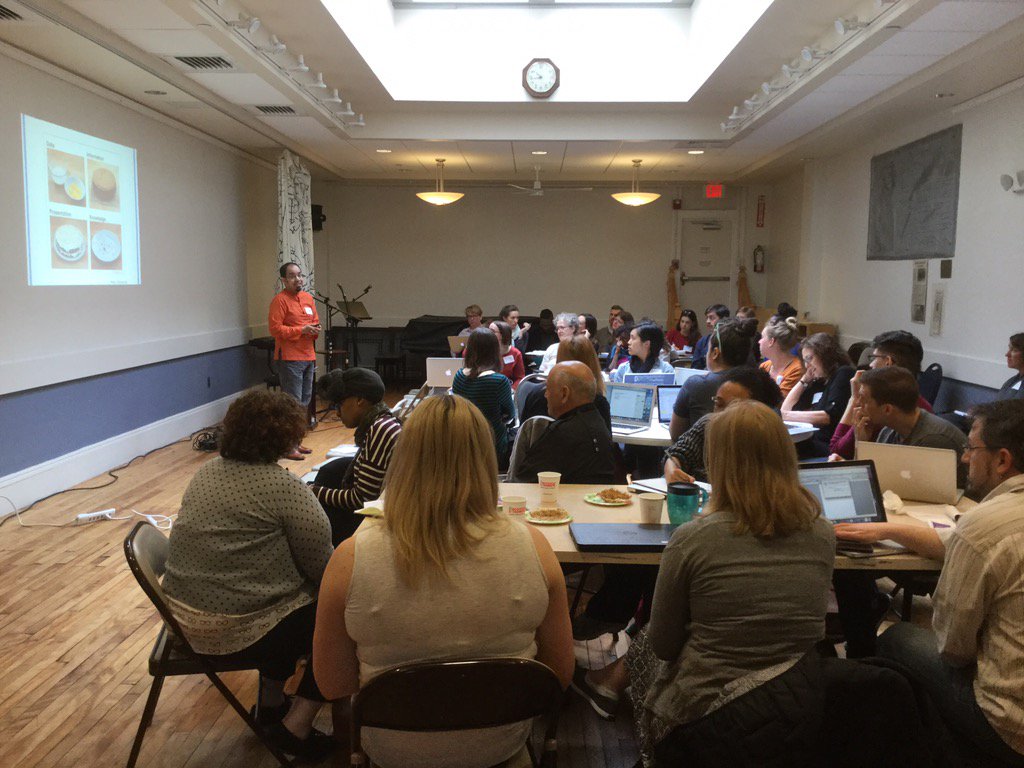 The Institute for Infinitely Small Things, a public art group, used Databasic as part of their project Campaign Limericks where they worked with students and community members to create limericks out of the top phrases spoken by presidential candidates. Want to check out our corpus of candidates speeches? There are over 100K words for Trump, Clinton, Cruz and Bernie. Catherine and the Institute later created an art installation and data visualization of four limericks at the Harvard Center for American Political Studies.
In April, Rahul shared Databasic as a tool for participatory data analysis at TICTec 2016 in Barcelona. Organized by mySociety, the conference showcased many different technologies and methods for evaluating the impact of Civic technologies for people from 20+ countries. Here are some tweets from his presentation:
https://t.co/cPBcZynVox showing csv columns summary #TICTeC pic.twitter.com/THXjX4FEKy

— clkao (@clkao) April 27, 2016
Quite interested in how DataBasic improves engagement with managing tabular data https://t.co/rbnzGZxqTu by @rahulbot @EngageLab #tictec

— Pablo Aragón (@elaragon) April 27, 2016
Catherine spoke about Data & Community Engagement at the White House and demo'd Databasic to 150+ people in law enforcement and technology at the White House's celebration of one year of the Police Data Initiative. More than 53 police departments across the country have signed on to opening up their data in the next year. The event was inspiring and showcased law enforcement departments like Dallas and Orlando who are at the cutting edge of transparency and community engagement.
These 53 cites have agreed to open their #PoliceData cover 41 million americans. Proud to call them partners ?? pic.twitter.com/QvACAEjrDE

— DJ Patil (@DJ44) April 22, 2016
Also, Catherine got to take a photograph with USCTO Megan Smith which was kind of awesome:
Lab Fellow @kanarinka w/ @USCTO at @WhiteHouse for #policedata initiative improving transparency w/ law enforcement. pic.twitter.com/X2vQr9LpYg

— Engagement Lab (@EngageLab) April 26, 2016
And in early May, Catherine ran a Data Storytelling 101 workshop for journalists on the education beat at the Education Writers Association conference. We worked with data from the Chicago Public School system on student suspensions and started asking questions about race and school ratings in conjunction with suspensions. We also spent a good portion of our time talking about cleaning and merging data.
Being productive with our team at #cityaccelerator conference! #WeAreABQ pic.twitter.com/moICiN2JtP

— Gary Oppedahl (@OGary) May 4, 2016
The spring wrapped up with a workshop for 50 municipal government workers participating in the CityAccelerator project organized by Living Cities and facilitated by Eric Gordon and the Engagement Lab in New Orleans. Teams from Seattle, Albuquerque, Baltimore, Atlanta and New Orleans worked on analyzing citizen comments with WordCounter and spreadsheets related to their accelerator projects with WTFcsv. We also brainstormed other datasets internal to their organizations that they might use with Databasic.
talking #civictech with @engagelab + others at #cityaccelerator meet-up in #nola. Check out https://t.co/6iqYWUNDu9 – NLP DIY resource!

— Sara Estes Cohen (@saraestescohen) May 4, 2016
Data visualization showing frequency of Prince lyrics #cityaccelerator #dataviz pic.twitter.com/5e8HsbgxfR

— Dr. Frank Mirabal (@FrankMirabal) May 4, 2016
We are thrilled at the reception up to this point and have learned a lot from our participants' ideas about how they can use Databasic in the context of journalism, media literacy, the arts, community engagement and local government.